This post is to let you all know that I'm still blogging ~ just that I was rushing assignments, exams and projects in the past weeks, so not much time for me to update weekly/daily posts here. And since recently, I had finally released from those works, I can finally write these missing updates to compensate the losses of time for you all have come to visit my blog everyday or every week :-)
Jan 30
Long day ahead in school, lessons, consultations, test.
— Koh En Jia (@UrnChia) January 30, 2013
I retweeted the above tweet as there were many stuff going on in school that I thought it should be alright if I didn't write the blog post.
Another reason that I must write down was because I was invited to my course bonding event. If you've not read the previous post about this event, here's the
link
. Because of some reason, they pushed the date to Jan 30, in which after this date, I have to revise for my accounting test on 31 Jan. Instead of revising for the test, I went to this event instead to "enjoy" the fun with the juniors.
31 Jan
I think I am going to fail this test today as I was revising it by this morning, due to I was too tired
for
the event yesterday and dozed off. Moreover, I went to the wrong classroom and made me anxious, and thus led me to forget what I memorized earlier for the test. >.<
Feb 1
I need to rush a lot of reports as they were due on Feb 4. Also, we will have to borrow video equipment from DMIT in order for us to do our video production tomorrow.
Feb 2
Today is the day to carry out our video production project. We went to liaise with the archery members and we carried out the shot at the SP stadium on a sunny afternoon. The video production took us a few hours to get all the shots right and due to some conflict in my team, thus I came out the solution to put the final editing works to me.
Feb 3
After I finished all the reports that were due on Feb 4, I started to edit for the video on the 2nd round. Here is the 1st draft video that I uploaded to YouTube !!
Feb 4
After submitting the reports, I also need to rush out a PowerPoint slide for the demo on a flash project. In other hand, my classmate, Eugene and I went to look for 2 lecturers to teach us the export setting of the video project.
This is the 2nd draft of the video that I put to much thought, though this was still not the final one because of the export setting didn't fulfill the requirement in our project. :O
Final video of the commercial that publish publicly on my channel :)
Feb 6 & 7
I was invited by my classmates to "
shopping
" at entrepreneurship bazaar.
This bazaar was hosted for all students who want to conduct a small business by setting up small booths and sell all kinds of products and services. And from there, to let the students experienced what a daily operation of running a business was like and to earn some small money for them to run other types of businesses.
Here is the 2 set of items that I bought from 2 booths, running by my classmates.
I bought this camera was to get ready for some shots for the Chinese New Year.
Fujifilm Instant Camera ~ Instax mini 25
Bought 2 boxes of films for the instant camera
I bought this mug plate because it is beautifully-designed and for charity, since they got these kind of products created for the disabled people.
Feb 8
Here are some pictures that my course-bonding event took and some pictures that I took with my classmate at the entrepreneurship bazaar !! :-D
I even set this picture into a cover in my Facebook profile.
DBIT-bonding event champion ~ Group 3 (prize: $10 popular voucher)
First 2 Instax pictures that I took with my classmates: Tan Hui Juan
:
-]
Left: taken on Feb 7 and Right: taken in Feb 6
Other than the pictures, I also came across some videos that I found quite interesting and funny, especially this video for the CNY.
Feb 9 & 10
We went to Spring Court Restaurant for our reunion dinner. Unlike most families who ate steamboat at home, we went out instead and it happens every time like this every year.
5-star puzzle division
Table no.: 306
Chili sauce
Because the list is in Chinese ~

.

~
English translation in some pictures here might not be correct
Shark-fin soup
Crispy Fried Chicken
Steam Fish
Deep-

white

Tiger Prawns
Fried noodles
Coconut red-bean soup (dessert)
Cam-whoring at the restaurant while waiting for the food !!
Family Photo with my 3rd sister's family
Using the instant camera to take some shots while queuing outside the restaurant ...
While I was staying up late at night (which I need to do this for my family every year ~ to prolong the life of my parents), I was surfing twitter when I found out that one of my admired YouTuber, Tan Jian Hao was trending his catchphrase: #LohYehMohYeh
On the next day, then we started the steamboat. But this time, it's with my 2nd sister's family.
2 of my nephews were playing together :)

Feb 10
Wishing everyone a Happy Chinese New Year in Feecha app !!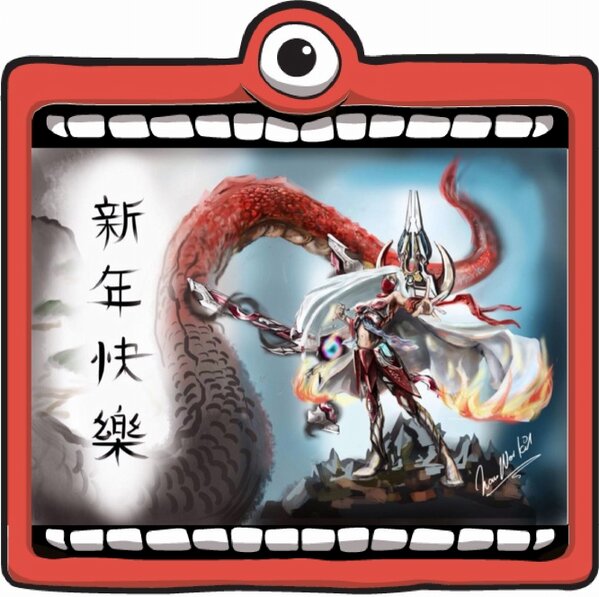 I happened to come across my friend's video project that he posted on Twitter. He was trying to promote his catchphrase: #HowBoutNo